Rubens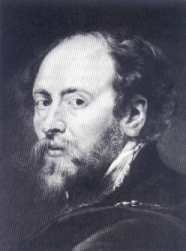 Self-portrait(detail) Uffici, Florence

1. Peter Paul Rubens was born in Siegen en Westphalia (now Germany) at the end of which century?

a-16th
b-17th
c-18th


After studying with Tobias Verhaecht and Adam van Noort, Rubens worked and studied in the workshop of Otto van Veen. He then went to Italy where he studied the works of the Renaissance painters, works of the antiquity and of the School of Bologna.


Descent - Elevation
(Pass your mouse over the picture to see the second picture.
Click on the names to see the enlargements)
2. Rubens became a master of __________?_____ art, which uses the diagonal as the strongest way to express the dynamism of a subject. Typical also is the manner in which the characters seem to come out of the frame of the picture (as in the second picture "Elevation"
a- the Renaissance
b- Baroque
c- Rocaille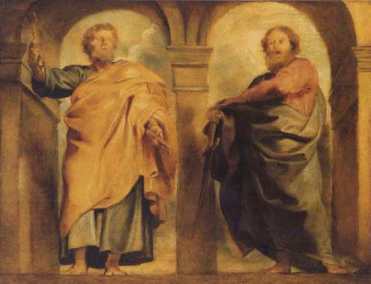 3. Three painters influenced Rubens the most: Michelangelo, Raphaël and the realism of one of his contemporaries, a master of the chiaroscuro (light and dark) ______.
a- Caravaggio
b- Titian
c- de Vinci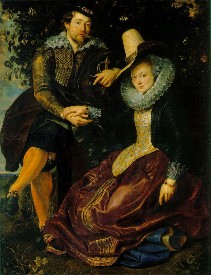 (click on the painting to enlarge)


4. After the death of his mother, Rubens stayed in Antwerp and married Isabella Frant. He was immediately successful as an artist. His painting reflect the way of painting of the School of Bologna, which give their paintings the aspect of "living pictures", arranged in a harmonious manner.I

Who are the people in the painting above?

a- Nobles of Antwerp
b- the king and queen of France
c- Rubens and his wife



5. Even the great masters had to paint what their "patrons" asked them. Rubens thus painted a lot of religious scenes, but even in these works, Rubens painted the beauty of nature through it's human or animal form.

Who is represented with his foot on the dragon?

a- St. Peter
b- St. Michael
c- St. George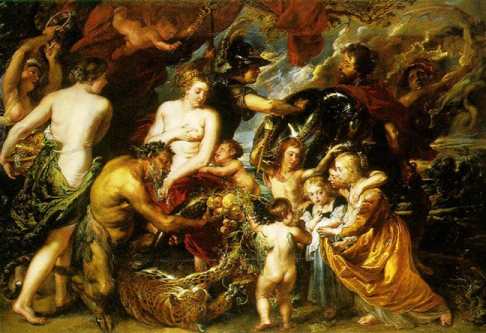 the Blessing of Peace

6. In his paintings, Rubens mixes nudes of gods, nymphs, satyrs, saints, and these scenes are often in contrast with the religious subject which he interprets.

What does this painting represent?
a- a biblical scene
b- an allegory
c- a historical scene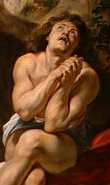 (click on the painting to enlarge)

7.Which animals surround this person?
a- tigers
b- bears
c- lions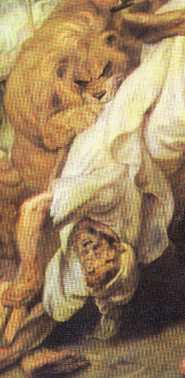 (click on the painting to enlarge)

8.How is this lion hunt done?
a- on foot
b- by chariot
c- on horseback




image 1 image 2
(Pass your mouse over the picture to see the second picture.
(click on the names to enlarge)

9. Rubens is famous for his voluptuous nudes. Who are the ladies in these paintings?
a- the Three Graces of the Arts
b- the Three Ladies of Avignon
c- the Three Magi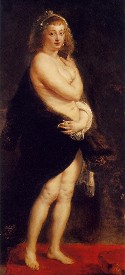 (click on the painting to enlarge)

10. This portrait is called "the Little Fur" Who is it of?
a- One of the Muses
b- Rubens' second wife
c- Diane the Huntress