Chinese paintings*
Q1 : What materials did the artist use to create this painting?

a ink on paper or silk
b watercolor on paper
c oil on canvas

Q2 :Why does the painter Qian Xuan use bright green and blue pigments ?

a It was a palette popular during the The Tang dynasty (618–907)
b It was a palette popular during the Yuan dynasty (1279–1368),
c It was a palette popular during the Zhou dynasty (ca. 1050–256 B.C.)


Woods and Valleys of Mount Yu, 1372
Ni Zan (1306–1374)

Q3 : Why didn't the artist use any color in this painting?

a in the third and in the fourth century handwriting with a brush became a revered art form
b they had not invented colors yet
c there was only black ink during the Tang dynasty


Q4 : How is nature depicted in Chinese landscape painting?

a it's less important than the figures
b it's of primary importance
c it's left unpainted because it isn't important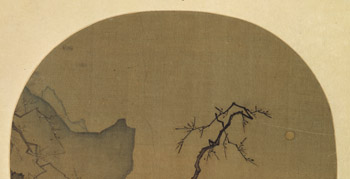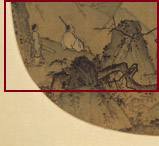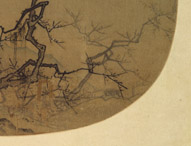 Q5 : Why did the artist choose this shape for this painting?
a so it would fit in a window
b to look like the moon
c it was used as a fan

Q6 : Why are red stamps placed all over the paintings?

a they are stamps seals used on works of art registered in the imperial collections since the Tang dynasty
b they were small poems from the Zhou dynasty
c nobody knows





Q7 :What is this image about?

a to express the simple beauty of nature
b to express the artist's sorrow over the fall of the Song dynasty to the Mongol invaders.
c to illustrate a poem on nature


Buddha's Manifestation of Joyfulness (detail),
Zhang Daqian (Chinese, 1899–1983)

The Buddhist religion was founded in India in the sixth century B.C. It teaches that life is transitory and filled with suffering, which is caused by desires and cravings. The end of this suffering, or enlightenment, is achieved through a life devoted to moderation, morality, and meditative practice
Q8 :When was Buddhism introduced in China?

a around the first century A.D
b around the first century B.C.
c it was never introduced to China

Seated Woman
Lin Fengmian (Chinese, 1900–1991)

Confucianism (Kongjiao) is the philosophical, social, and political doctrine based on the teachings of Confucius and his most important followers. Confucianism offered a set code of proper social behavior motivated by virtue and tempered by humanism.

Q9 :When was Confucianism introduced to China?

a during the The Tang dynasty (618–907)
b during the Zhou dynasty (ca. 1050–256 B.C.)
c during the Han dynasty (206 B.C.–A.D. 220).



Seascape at Beidaihe,
Wu Guanzhong (Chinese, b. 1919)


Daoism is a native philosophical system, based on the teachings of Laozi (fifth century B.C.) and Zhuangzi (ca. 350–275 B.C.).


Q10 :What does Daoism advocate?

a man must give all his wordly goods to the emperor
b man must accomplish great works to achieve salvation
c man must live in complete simplicity and naturalness in order to attain a peaceful existence in harmony within the cosmos